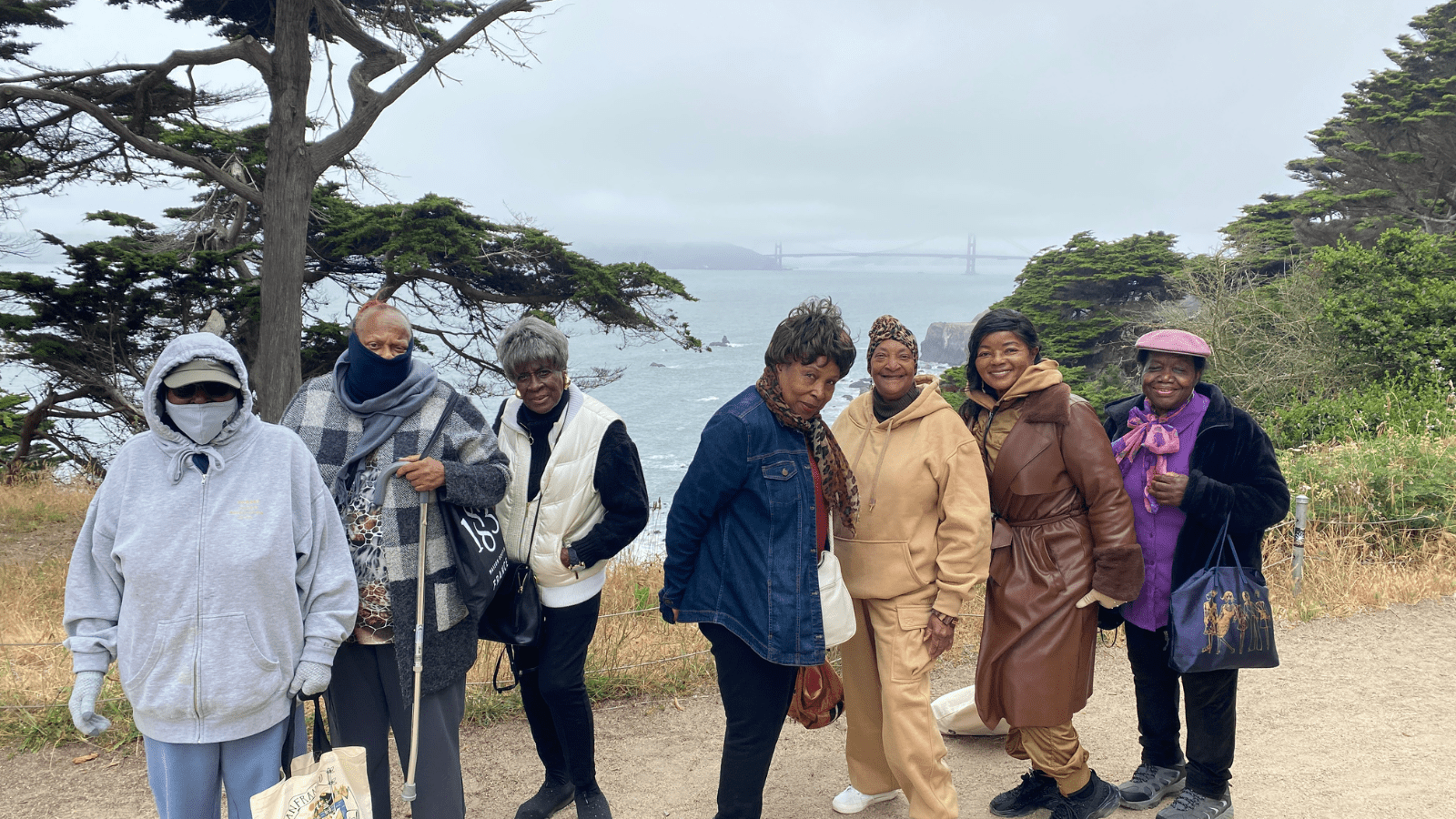 07 Sep

Senior Victory Club Shines: A Look Back at Summer Programming

The BTWCSC Senior Victory Club is a Black-centered group of community members and leaders from the vibrant Fillmore/Western Addition neighborhood. Our program offers a range of enriching activities that provide mental stimulation, a platform to reduce social isolation and center wellness by promoting creativity and social connections, and opportunities for civic engagement. Our Senior Program Manager, Eryn, and Senior Program Coordinator, Brett, create a nurturing and inclusive environment that empowers our older and disabled adults to lead fulfilling lives and continue to build lasting bonds within their community.

Our older adults have been busy with activities, workshops, events, and field trips. Keep reading for a snapshot of our summer!

Health is Wealth: Holistic Senior Wellness Workshops

Our Senior Victory Club participated in Ubuntu Healing Circle sessions hosted by Toni Hines. During these sessions, they learned about practices that foster deep emotional and spiritual connections through techniques such as mindfulness, focused journaling, and meditation. Seniors also experienced the power of sound therapy with the gifted Nekia Wright through her Sound Healing sessions.

To promote physical health, Seniors got their steps in with brisk walks around the neighborhood, accompanied by our very own Outreach Coordinator, Marvellus, and Senior Program Manager, Eryn. Together, we walked over 24,000 steps this summer throughout the Fillmore/Western Addition neighborhood!
Exploring Artistic Horizons: From Crafts to Museum Visits
Our older adults embarked on a creative journey this summer, participating in art workshops and exploring museums and galleries across San Francisco.
Everyone got creative during Ms. Tracy's Art Hour, where they made gorgeous light-up vases from repurposed rulers!
Twenty-five Senior Victory Club members enjoyed a tour of the Museum of African Diaspora (MoAD) and saw the most recent exhibit, Black Venus. A big thank you to Chef-in-Residence Jocelyn Jackson, Chief of Curatorial Affairs and Public Programs Key Jo Lee, Director of Public Programs Elizabeth Gessel, and Education Program Manager Sedey Gebreyes for making our visit so memorable!
We also visited the Jonathan Carver Moore Gallery, San Francisco's first openly gay Black male-owned gallery in the heart of the city's Transgender District! Owner and curator Jonathan Carver Moore graciously gave us a special tour through the exhibition Sanibonani, which showcases works from the Black queer South African artist Zanele Muholi and their students from the Muholi Art Institute.
Black Soul Sessions Dinner Part II: A Food Tour of West Africa
We hosted our second Black Soul Sessions Dinner with MoAD Chef-in-Residence and Justus Kitchen Founder, Jocelyn Jackson. Twenty members of the Senior Victory Club relished in the flavors of West Africa. The menu featured dishes like jollof rice, tiga diga na, kele wele, guingombo, accompanied by dablina and freshly cut papaya and watermelon.
Inclusivity in Focus: LGBTQIA+ Senior Circle
Over the past year, we've hosted a monthly LGBTQIA+ Senior Circle, led by BTWCSC Senior Advisory Council member Gregory Ledbetter and Jonathan Anyaogu, a certified clinical therapist from our partnership with Westside Community Services. This support group focuses on building trust within the LGBTQIA+ senior community among Black older adults and allies.
Cultivating Respect & Building Connections: Intergenerational Programs
Programming that fosters appreciation and respect across generations is crucial for enhancing the overall well-being of our community. Our 'Reading With Friends' program brought our Senior Victory Club and K-1 Summer Camp youth together each week for intergenerational story time.
Our youth and older adults visited EARTHseed Farm, a Black woman-stewarded farm in Sebastopol, CA. During our visit, we connected with the land, learned about EARTHseed's farming practices, met the farm's pet pigs, and even had the chance to harvest our own mulberries and blackberries.
Taking Action: Advocating for Food Security at San Francisco City Hall
Members of the Senior Victory Club advocated for food security during the annual budget hearing at San Francisco's City Hall alongside more than 40 community-based partner organizations through the Food and Agriculture Action Coalition Toward Sovereignty (FAACTS). Miss Catie and Miss Paulette spoke in front of the Board of Supervisors calling for the continued funding of our community food programs, like our Farm Fresh Food Market and Service to Soul Hot Meals.
An Exclusive Tour of the California Academy of Sciences
We had the privilege of taking a behind-the-scenes tour of the California Academy of Sciences. We explored the specimen library, the Steinhart Aquarium and the Osher Rainforest. Among the many highlights were getting up close with Claude, the Academy's beloved Albino alligator, and walking through the newest installation, The World's Largest Dinosaurs. It was an unforgettable experience that deepened our appreciation for the wonders of science and nature.
A Visit to the San Francisco Conservatory of Flowers 
The Senior Victory Club embarked on a delightful visit to the enchanting Conservatory of Flowers in Golden Gate Park. We immersed ourselves in the beauty of the highland and lowland gardens, taking leisurely strolls while admiring an array of aquatic and carnivorous plants. It was a truly memorable outing that allowed us to connect with nature's wonders at the Conservatory of Flowers.
Laughter & Fun at the Santa Cruz Beach Boardwalk
Our Senior Victory Club, Summer Together Camp youth, and BTWCSC staff ended the summer with a memorable adventure to the iconic Santa Cruz Beach Boardwalk. We were greeted by the beachy atmosphere and the scent of cotton candy in the air. We had a blast exploring the Boardwalk, riding the rides and having a picnic by the beach!
As we bid farewell to summer, we want to thank our Senior Victory Club members, our Senior Wellness Program facilitators and partners, and BTWCSC staff for making this past summer joyful and memorable.
We're excited to jump into the final few months of 2023, which we know will be filled with camaraderie, learning, and fun as we continue to prioritize the well-being, inclusion and happiness of seniors in our community.
If you know an older adult who would enjoy our programming, please reach out to our Senior Program Manager, Eryn (ekimura@btwcsc.org or 415-928-6596 x 103) or Senior Program Coordinator, Brett (bmartinez@btwcsc.org or 415-928-6596 x 115).